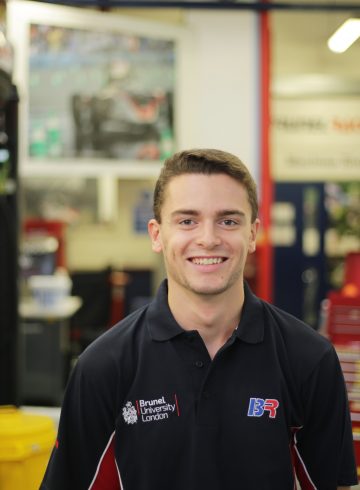 Thomas Constance
Powertrain Manager
Test/Competition Driver
Age: 22
From: Fareham, United Kingdom
Course: MEng Motorsport Engineering
Level: 5
Thomas first joined the Brunel Racing team at level 2 in BR-17's (2015-2016) year, being a driver during testing of BR-16's car for the development of BR-17. Being an active member of the team throughout the year Thomas was exposed to all areas of the car, and took particular interest in the powertrain. Getting involved as part of the small build team and a drive, saw Thomas through two competitions, Formula Student UK and Formula Student Germany.
For 2016/2017 academic year Thomas was appointed Powertrain Manager for BR-18. He was responsible for 8 research students and a number of volunteers within his area, to develop and implement a reliable engine package for the car.
Through 2016/17 year he also investigated valvetrain optimisation for future evolutions of the Brunel Racing car, and his design from this year will be implemented on the BR-20 engine package.
During the 2017/18 year Thomas was on placement at Delphi Technologies as a calibration engineer for their medium duty diesel department. However still had input into the BR-19 car and shared his knowledge and previous experience at competition.
For the 2018/19 season Thomas will be Team Principle, alongside Jack in managing the BR-XX project. As well as being part of the powertrain team researching the optimisation of the airbox and fuel injection system for future Brunel Racing cars.
Thomas has gained experience through his active interest in engines and motorsport. From stripping lawnmower engines to maintaining cars and motorbikes, Thomas' most involved project is yet to come. Thomas is also the Captain of the Motorsport society at Brunel, who's down time consists of racing, away from Formula Student.
Email address: 1405747@brunel.ac.uk