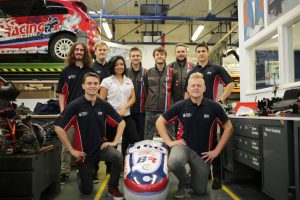 Formula Student Season 2017-2018
(06/02/2018)

Hello Brunel Racing fans!
This year we will be doing our 19th season in Formula Student and we could not be more excited. Our new car, the BR-19 is looking very prosperous as our team is working hard to develop every part of it to maximise its capacity. Team Principal this year is Hannah Brunskill who is doing a fantastic job organising the team. She has the support of many ambitious and talented managers, all specialising in different areas to boost efficiency. Whilst retaining the teams' ethos of reliability, simplicity and credibility, we are aiming to develop a car that is competing in the top at FSUK in Silverstone 2018.  
By looking at the successful BR-18, we are able to gather important data and knowledge about what was working and what could be improved. We have had a number of test days with last season's car after competition, before starting the process of dismantling and rebuilding it into the new BR-19.
The new team members are bringing new experiences and knowledge and we are all very excited to see the results. Make sure to follow us on social media for frequent updates on upcoming events and what we are doing on a daily basis. Don't forget to check the blog from time to time for more detailed posts of what we are up to in the time leading to Silverstone.
Cheers!
Sofie Froberg Karlsen