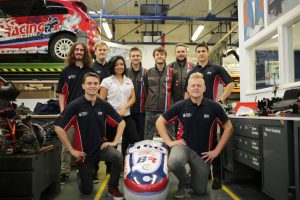 Formula Student Season 2018-2019
Hello Brunel Racing fans!
This year marks Brunel Racing's 20th anniversary of competing in Formula Student. We're really looking forward to bringing our new car for 2019, the BR-XX, to FS-UK in Silverstone and FS-ATA in Italy in July.
Our team this year brings with it a lot of experience from competing in previous Formula Student competitions and also from high level work placements in the automotive and motorsport industries. Led by team principals Jack Chamberlain and Tom Constance are a dedicated team of technical managers and volunteers, all working hard to deliver a competitive car in time for competition.
The team has been hard at work all year designing and manufacturing the components in time for competition. BR-XX is receiving a lot of upgrades this year including a completely redesigned suspension system and chassis and an all new ECU and wiring loom.
It's shaping up to be a very exciting year for the team and we're all very excited to see what BR-XX and our drivers can achieve in the dynamic events this year.
Follow us on social media to see the latest updates and follow our progress.