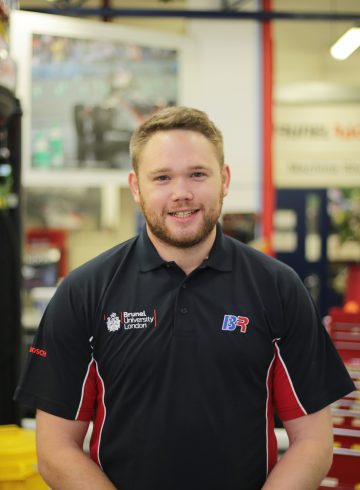 Matthew Crouch
Drivetrain Development Manager
Age: 26
From: Eastbourne, United Kingdom
Course: Mechanical Engineering MEng
Level: 5
Matthew joined the academic year 2018/19 to take part in motorsport engineering's most well-known academic competition, Formula Student. He was asked to join by Brunel Racing's Team Principals, as they believed he could contribute a lot to the team. He has had previous experience on the TT Zero team designing the current gearbox design as a volunteer in level 2.
Matthew's goals for this year are to develop a new race gear set which is optimised for this year's new engine map, as at the previous year's competition it was found that the range of the gears was not suitable. This will improve the results in all dynamic events in next year's competitions. Another goals is to investigate a new method for gear shifting and looking into alternatives or improvement to the current system. All of his work will be CAD design's in Solidworks, FEA analysis in ANSYS and topological optimisation in Altair Inspire, backed up with hand calculations for verification.
He did a placement at Gemini Transmissions Brackley, with the title Design Engineer. Here, his tasks involved Solidworks CAD designs, gearbox casings, assemblies, technical drawings, and part verification. The most useful learning outcomes from his year in the industry included motorsport design techniques, design for manufacture, and spline and gear design methods, to mention a few.
After finishing his education, Matthew is looking to work in the motorsport, aerospace, or machine design industry.