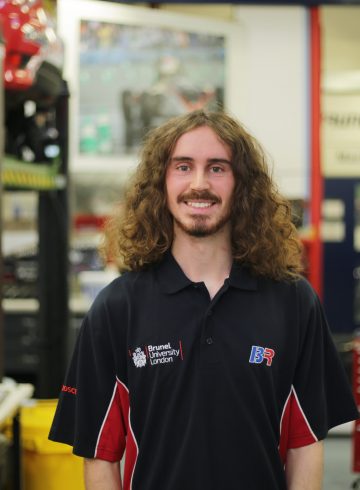 James Ryan
Aerodynamics Integration Manager
Age: 22
From: Bournemouth, United Kingdom
Course: Automotive Engineering MEng
Level: 5
James joined Brunel Racing as a volunteer in 2014 when he started at Brunel, after hearing about Formula Student at school. He has played important roles in the manufacture, assembly, and more recently, the design of BR16, 17 and 18, and is excited to be part of the team that will bring BR20 to life!
The Aero Integration goals this year are 'Coherence and Legality'. James and the team are planning carefully to make incremental improvements, with BR18 and 19 as benchmarks, to ensure the full aero package works well when manufactured and brought together, and the car is 100% legal and ready to go before the start of Formula Student UK. James particularly desires the potential of individuals within the team to be maximised in order to bring about the best team result, and has confidence in his colleagues that together they can produce the highest placing Brunel Racing car ever.
During the year of BR19, James was working at Triumph Motorcycles as a 'Student Design Engineer' in the powertrain department. As well as developing skills and gaining experience in CAD design, engineering drawing and project planning, James also learned to be more self-sufficient, prompt and hard-working.
In the future, James would love a career in motorsport with the aim to be in a management role long term. Alternative career paths include Videography, Church Ministry and Music.