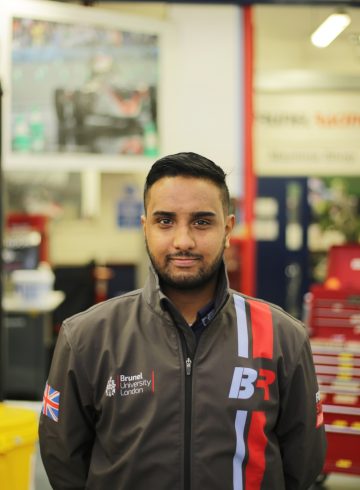 Hitendra Pandya
Electrical Manager
Age: 22
From: Leicester
Course: Meng Electronic and Electrical Engineerin
Level: 5
Hitendra joined Brunel Racing during his level 3 project. This project involved the condition monitoring of Li-ion cells, the project helped Brunel Racing with the Electric Race Car Accumulator.
This year Hitendra stepped up as Electrical manager on the Electric vehicle for his MEng project.  He will be responsible for all the Low Voltage electronics on the car and the Electrical side of the traction system. He aims to have the car running for Silverstone.
Hitendra did a placement at Formula One Management as an Electronics Engineer. He was involved with the telemetry/video equipment that is fitted to all Formula one cars during a race. Hitendra had gained insight about behind the scenes of racing events, and a lot about the electronics within motorsport vehicles.
Brunel Racing has provided Hitendra with a lot of experience and aims to put it into use in the automotive/motorsport industry.