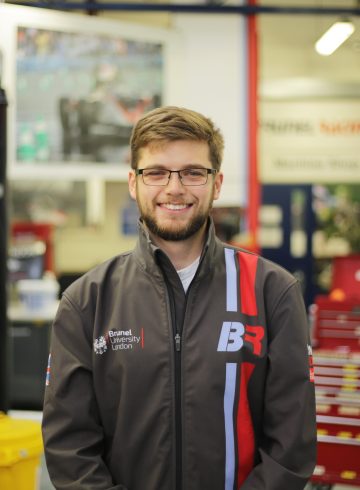 Harold Richardson
EV Team Principal
Age: 24
From: Southampton
Course: Mechanical Engineering
Level: 5
This year, Hari's goal is to lead the EV team in delivering Brunel's first electric Formula Student car. He would like it to be competitive with other single-motor EV entries, with particular challenges being battery cooling, powertrain packaging and not getting electrocuted.
As a Composite Manufacturing Intern at GE Aviation, Hari was responsible for root-cause and corrective-action on defective 
composite panels. Key project work included evaluation of leak-testing 
NDT procedures and compiling a business case for
implementation of new technology to assist composite lay-up. The most important thing he learned on placement was that if you do not decide where you want to work and go out of your way to gain experience in that area
, it will be decided for you.
Following his placement experience, Hari has followed a passion to work in EV powertrain design, leading him to complete a dissertation on
Electric Powertrain Optimisation for Formula Student. 
He joined Brunel Racing last year, as a volunteer, and applied his knowledge from placement to the manufacture of composite wings for the car.