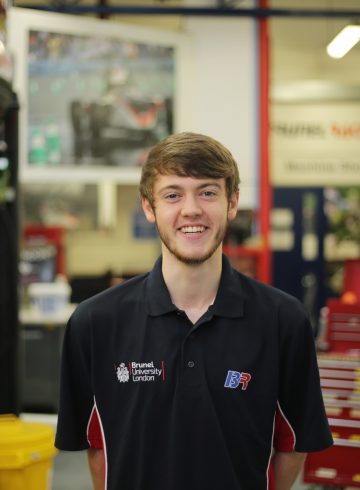 Callum Young
Powertrain Manager
Age: 22
From: Orpington, Kent
Course: Motorsport Engineering MEng
Level: 5
Callum joined Brunel Racing in 2015 as a 2nd year volunteer, helping to build and run the engine dynamometer.
In 2016, between his second and third year of study, Callum completed a 12 month placement at Jaguar Land Rover, working in the Diesel Calibration department. During this time, Callum gained experience in engine calibration, data analysis and vehicle and engine testing.
Last year, Callum returned to Brunel from his placement for his third year of study, and was appointed as Powertrain Manager for Brunel Racing. During the academic year, Callum completed a level 3 dissertation on the optimisation of the engine calibration used by the team's Yamaha R6 engine. This was carried out using the engine dynamometer facilities at Brunel. Callum also carried out test driving duties throughout the year and was one of four drivers for the team at FSUK.
This year, Callum continues his role as Powertrain Manager as a level 5 student. He plans on continuing his engine calibration work to optimise the performance of BR-20's powertrain using both the chassis and engine dynamometers, and is also designing a new exhaust system for BR-20.
In his spare time, Callum races karts for Brunel, competing in the British University Karting Championship. He is also an avid gamer and sim-racer, playing League of Legends and iRacing.