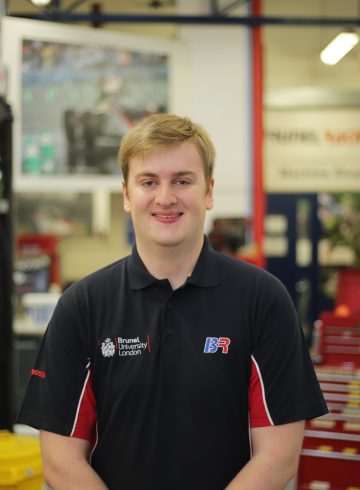 Aidan Sainsbury
Aerodynamics Development Manager
Age: 22
From: Somerset, United Kingdom
Course: Mechanical Engineering MEng
Level: 5
Aidan has previously volunteered for Brunel Racing and the Motorsport Department for Brunel University since his first year of study in 2015, gaining excellent workshop experience and an appreciation of automotive manufacturing in the process. Officially, he became a team member of Brunel Racing in 2017, aiding in the assembly of the BR-18 car and participating in the 2017 Formula Student UK competition at Silverstone. Aidan also reprised a team member role in the 2018 Formula Student UK competition and focused on the manufacturing of all carbon fibre bodywork and aerodynamics of the BR-19 car.
This year, as part of the BR-20 development, Aidan will design, develop and manufacture an undertray and diffuser to further improve the aerodynamics, and thus improve the car's performance during the dynamic events at the Formula Student competitions. The design and simulation of this new aerodynamic component will be done using SolidWorks and ANSYS software packages, and will be made in-house using the expertise the team has acquired through previous carbon fibre component manufacturing.
Aidan's main focus is to get into the automotive sector and work as a design engineer for companies such as Aston Martin, McLaren and Jaguar Land Rover. His ultimate goal is to work in Formula One with one of the current racing teams. Brunel Racing has a history of team members who have had placements with Formula One teams in the past and many have gone on to graduate and work in motorsport divisions of major automotive companies.