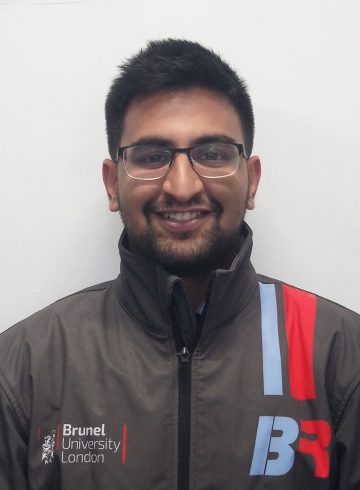 Aditya Deshpande
Secretariat/
Suspension Engineer
Age: 24
From: Bangalore, India
Course: MSc Automotive and Motorsport Engineering
Level: 5
Aditya graduated from Manipal Institute of Technology, Karnataka, India in 2015 with Bachelor of Technology (B.Tech) degree in Mechanical Engineering. Following the completion of his degree, he started his career at Mazda Motor Corporation in Bangalore, India as a CAD engineer. He engineered solutions for design problems on vehicle interior and exterior body components to ensure compliance with regional safety standards, manufacturing requirements and weight and cost limitations.
In 2017, with 2 years of experience in the automotive industry, Aditya decided to enroll on to a master's degree in Automotive and Motorsport engineering here at Brunel University London to pursue his passion for the automotive industry.
He is part of the suspension sub-system and is responsible for the design of dampers and uprights for the system. In addition to his work, Aditya has taken on the role of Secretariat for the whole team. His experience in the industry and more importantly his CAD expertise, will help the team to achieve their goals and successfully compete in the Formula Student UK competition in 2017/18.
Email: 1733560@brunel.ac.uk