Livery design of BR-19
(19/02/18)
Students of Brunel!
We have a competition for you!
It is time to design the livery of the new BR-19, and we would like your help.
You have to use the Brunel colours: white, navy and red which is Pantone: 200 and 540. We would also encourage you to use Pantone 2716, and you are allowed to use different shades of these colours.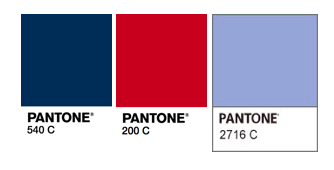 (Tip: racing lines are always in fashion)
You can look at the previous car BR-18 for inspiration. We want a car that looks as good as it is, that being said we aim to win the competition in UK this summer. The winner of the design competition will receive a prize as well as being able to include the achievement in your CV.
Below you will find a sketch of the car which you can print out and colour by hand or download and colour on your computer. You can hand in the sketch to us in the workshop in Tower D any day of the week between 9am – 5pm or email it to 1706355@brunel.ac.uk . The deadline is 9th of March.
We look forward seeing all your innovative ideas and fighting over which one too choose.
Good luck!

 lömölmölmölfeölrö
ölkmfölwmöelm
,mölmerflööwäl,
ölkmfrölqme
Brunel Racing Formula Student Season 2017-2018
(06/02/2018)
This year we will be doing our 19th season in Formula Student and we could not be more excited. Our new car, the BR-19 is looking very prosperous as our team is working hard to develop every part of it to maximise its capacity. Team Principal this year is Hannah Brunskill who is doing a fantastic job organising the team. She has the support of many ambitious and talented managers, all specialising in different areas to boost efficiency. Whilst retaining the teams' ethos of reliability, simplicity and credibility, we are aiming to develop a car that is competing in the top at FSUK in Silverstone 2018.  
By looking at the successful BR-18, we are able to gather important data and knowledge about what was working and what could be improved. We have had a number of test days with last season's car after competition, before starting the process of dismantling and rebuilding it into the new BR-19.
The new team members are bringing new experiences and knowledge and we are all very excited to see the results. Make sure to follow us on social media for frequent updates on upcoming events and what we are doing on a daily basis. Don't forget to check the blog from time to time for more detailed posts of what we are up to in the time leading to Silverstone.
Cheers!
Sofie Froberg Karlsen
 Brunel Racing Break New Ground with Big Industry Connections
(30/06/2017)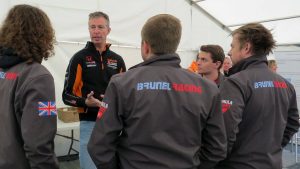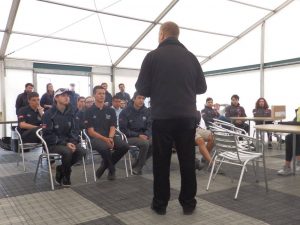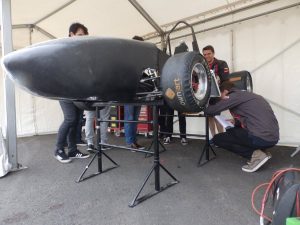 Formula Student offers a unique industry experience for undergraduates, encouraging and facilitating the close contact with hundreds of engineering companies across the world. Brunel Racing have exploited this opportunity, developing close connections with leading professionals and sponsorship agreements with pioneering companies.
This year Brunel Racing have developed a close relationship with Bosch, the world's largest supplier of automotive components. Along with supplying the team with cutting edge products, Bosch also provide priceless technical support and advice. Recently, Bosch invited Brunel Racing to Horiba MIRA, Europe's largest automotive test facility, to put BR18 to the test. An agenda packed with mock Formula Student events sprinkled with networking and competition advice yielded a highly beneficial day for the entire team.
Attendees included professionals from Horiba MIRA, Bosch, Formula Student judges/scrutineers, Team Dynamics (including British Touring Car Champion Matt Neal) and Oxford Brookes Racing. The team were able to assess the competition and share innovative ideas and strategies. The judges and scrutineers identified any holes in the team's designs and strategies, providing advice on how to maximise points at competition. Bosch provided technical support and advice on the Bosch products we run and how to get the most out of them. Team dynamics helped provide solutions to issues Brunel Racing have historically struggled with based on their racing experience and shared contacts for new suppliers. Our drivers even managed to get racing advice and a VIP tour of the BTCC Honda Car from Matt Neal himself. Finally, there was time for placement and graduate scheme discussions with many attendees, making it an event valued by every team member.
Feeling infinitely more prepared for competition, the team have walked away with an action plan that should see the team maximise competition performance and become a real contender at Silverstone. Just like our sponsors and their products, we hope BR18 will be setting the bar high at competition.
Luke Waldron
Team Principal – Design
Unsprung Manager
Powertrain Torque..
(04/05/2017)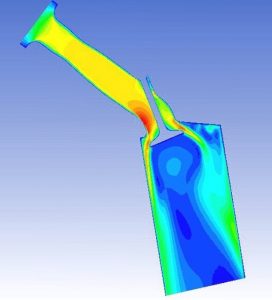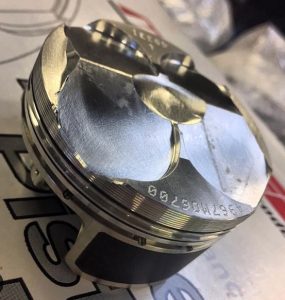 With the main developments of BR-18's car being the chassis and aero package, the powertrain development is certainly not going to go unnoticed. With a higher redline, ported heads, custom camshafts, and many more trick bits – the far from standard Yamaha R6 engine is going to be making some noise in more ways than one for Brunel Racing this year. All under 110 dBC of course…
By experiencing some major problems in early testing, comprising of a failed big end bearing and the oil chain eating its guard, due to sight excursion to the scenery by our very own number one driver and powertrain manager Thomas Constance, allowed for the race engine to be placed on the dyno early on while running a stock engine in BR-17's car for testing. This has aided the development of the engine fuel and spark mapping massively, allowing BR-18 to feature multiple engine modes for different events at the competition.
Alongside all the 'real work' our research has been looking promising also, with investigations into dual stage injection, modified intake and exhaust camshafts, and extensive analysis of fluid flow through the intake port, the BR-18 platform may see some further updates later down the line.
With a second race engine being built and engine mounts being made for the 'still warm' BR-18 chassis, the build phase is now officially underway! All of this not being achievable without our welder, Michael, and our partners supporting us. So a big thank you goes out to Bosch, Millers Oil, NGK, ZX1, and Performance Parts.
Be sure to keep updated with all our progress on Facebook, Twitter, and Instagram
Number One Driver and Powertrain Manager
Thomas Constance
Watch This Space…. Frame….
(10/03/2017)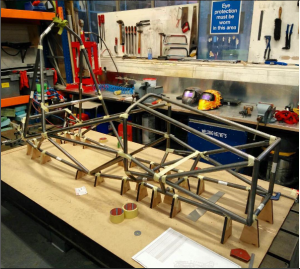 If an engine is the beating heart of the beast, the chassis is the skeletal frame that links everything together and makes the whole system work in harmony. A chassis dictates the styling of a vehicle, the design of some of its major subsystems and contributes significantly to the handling and the feel, and this one, is a beauty!
For the first time ever, Brunel Racing has employed the help of VR3 engineering, specialists in welded tube structures, to supply precision made bespoke chassis tubing for the entire chassis. VR3 engineering use their own custom built CNC machine to extract data directly from a 3D model and produce impossibly accurate cut tubing that fits together like Lego. Based in Ontario Canada, VR3 engineering have customers across the globe and work with some of the best Formula Student teams on the planet. The accuracy of this chassis tubing has allowed us to tack and weld the chassis to higher accuracy than any Brunel Racing chassis before and in unbelievable time. The chassis tubing was with us in a matter of weeks meaning the BR18 chassis is ready much earlier in the year than most of its predecessors. We owe VR3 a big thank you for the incredible work they've done for us and we are already seeing the benefits of working with such a credible supplier. If you want to know more about VR3 Engineering, check them out at: http://vr3.ca
Not only have we opted for a precision made chassis this year, but for the first time in over a decade, we are committing to destructive testing by ordering a second chassis. This second chassis will allow us to build earlier as any chassis testing can be performed alongside vehicle build. It also allows us to mock up some assemblies on the spare chassis before going onto the main chassis, saving as much time as possible and maximising the amount of pre-competition testing available. Historically, the more pre-competition testing a team completes, the better they perform at competition. Finally, strain gauges will be used in destructive testing to analyse the plastic and elastic behaviour of the chassis to be utilised in future designs.
With so much hard work being put into this chassis and the clever use of resources allowing the team to maximise its pre-competition testing, we are certainly expecting an exciting Formula Student competition!
Luke Waldron
Team Principal – Design
Unsprung Manager
Designing an Unsprung System
(03/03/2017)

In simple terms, motorsport racing is the act of moving a vehicle, under its own power, from point a to point b in the fastest time possible. The driving of this vehicle is quite often the largest contributor to reducing this time with the driver's ability largely dependent on the vehicle's handling characteristics. The vehicle dynamics are governed by the unsprung design making it one of the most elemental subsystems to competition success, as it is quite often the difference between winning and losing. In order to produce a winning unsprung design, our design ethos has been implemented in all design decisions.
A reliable unsprung system comes from utilising what we know works. Over years of optimisation, we have achieved designs for uprights, hubs, rotors and brakes that yield good test results, meaning these designs will be leveraged onto BR18. This allows us to dedicate time and resources to improving other areas of the unsprung system with spare parts essential on our shopping list. Purchasing a spare set of Ohlins dampers, which are already a high performing, easily adjusted damper, allows us to test more thoroughly without the worry of failure. We have a wide range of springs with spring rates varying from 125-550 lbs/inch, ensuring we have the most ideal spring for each event and vehicle setup. Although thorough failure calculations have been performed to validate the wishbone design, a spare set is also being manufactured to ensure a fresh set is available for competition.
The subsystem embodies simplicity by choosing designs based on their ability to be manufactured quickly, maintained simply and easily adjusted. Therefore, direct actuation suspension has been chosen on the rear which was proven to work well on our most recent spaceframe, BR15. Using direct actuation on the front suspension yields poor motion ratio and is difficult to mount, meaning pull rod suspension has been chosen with a near 1:1 motion ratio achieved as a result. Having adjustable mounting points means that we can vary the vehicle setup based on driver preference and event performance, with little difficulty. The wishbone geometry was dictated by anti-squat and anti-dive characteristics yielding 26.75% and 34.21% respectively, with the design chosen for a simple manufacturing process. The wishbone shafts are welded to outboard waterjet cut bearing housings with inboard rod ends chosen for simple set up and adjustability.
Credibility comes from the design validation and processes undertaken to ensure the unsprung system performs as it should do. The unsprung team have tested the proposed suspension design in optimum kinematics by simulating the vehicle in heavy braking, hard cornering and high G bump scenarios to evaluate how the vehicle behaves. The data found in this process has influenced the subsystem design by ensuring we achieve a good motion ratio, minimal bump steer and optimal camber angle change in cornering. Further to this design, vehicle testing allows us to fine tune the vehicle setup to suit the driver and the event to get the best out of BR18.
Luke Waldron
Team Principal – Design
Unsprung Manager
How to Design for Formula Student Success
(27/02/2017)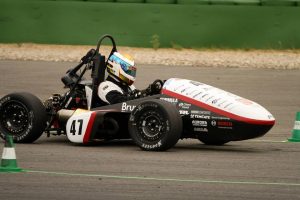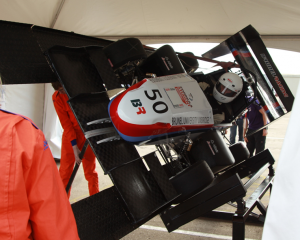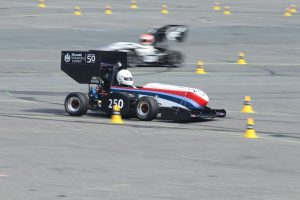 Any good design process follows a carefully chosen design ethos. For BR18, we rest our ethos on three pillars selected to maximise our point scoring ability at competition. During the design process, every decision made is driven by this ethos and dictates the final product. These pillars are reliability, simplicity and credibility and encapsulate Brunel Racing's Formula Student vision.
Building a reliable car will quite simply allow us to compete in and complete every event. Many teams struggle to pass scrutineering and even fewer complete the endurance event which carries 300 points and a further 100 points up for grabs in the efficiency event for the teams that complete endurance. This constitutes 59% of the dynamic points with 18 of the top 20 teams at the 2016 UK event completing endurance. The 2 teams that did not complete endurance scored very highly in all other events. It is Brunel Racing's aim to score well in every event by producing an all-round performing and reliable vehicle.
As a team, we have learnt from all our previous Formula Student entries and the research contributing to every vehicle. Failure and unpredictability has historically troubled teams who have attempted to create complex solutions to problems without dedicating the research and resources required to ensure reliability. This is why simplicity is a key factor in all our designs, allowing us to build quicker, test earlier and snap up points in the static events. Simplicity over complexity often reduces costs, encourages innovation and makes the vehicle easier to use, maintain and adjust. Low costs score high in the cost event, innovation scores high in the design event and ease of use, maintenance and marketability score high in the business event. These static events are often overlooked by teams but contribute 48% of the overall competition points.
Credibility is defined as the cars ability to fit into its market place. For this, we look at factoring in what we have learnt from previous years and building something fit for purpose without over engineering. This is why many of our designs are simply developed from previous work that has performed well at competition, with our research chosen to produce an improved iteration. We benchmark our previous vehicles at the start of every year and seek to improve year on year, ensuring that our credible designs contribute points in all events.
Formula Student is all about gaining points, making a points driven strategy essential for achieving the best outcome at competition. By embracing this design ethos, Brunel Racing hopes to achieve points in areas that we have previously struggled, and we are confident that this strategy will help us achieve our Formula Student targets.
Luke Waldron
Team Principal – Design
Unsprung Manager
Hello and Welcome
24/01/2017
The Brunel Racing Formula Student Team are delighted to welcome you to our brand-new website!
This year will see the team compete in their 18th season of FSAE competition with a fresh young team looking to make this year's car, BR-18, one of our most successful to date. Lead by Team Principals Jack Chamberlain and Luke Waldron, the team aims to develop and produce the next evolution of Brunel's combustion vehicle effort whilst retaining the teams' ethos of
reliability, simplicity and credibility.
To date the team has be concentrating its efforts on the design phase of the season. Our team of nine managers has lead work concentrated within both design and simulation to bring together some major updates for the upcoming car. As well as this the team has enjoyed some valuable testing time with BR-17 in order to gain crucial data, whilst cohesively training two new drivers for this year's competitions.
Heading into 2017 thoughts will now turn to the manufacture and building of BR-18. The team will continue to work hard on completing both these quickly and efficiently to ensure maximum testing time before competition.
Watch this space for continued updates on the team's progress, media coverage and sponsorship announcements.
In the meantime, don't forget to follow us on Facebook, Twitter and Instagram!
Jack Chamberlain
Team Principal – Build